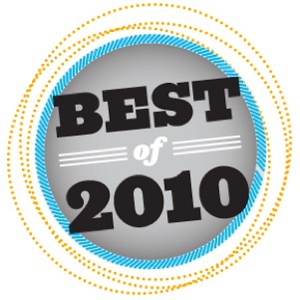 I made it to 30 shows this year which is less than usual in recent years. I think it might be even less this year. I love music, especially good live music, but it is getting tougher and tougher to get out during the week. I am feeling the years my friends and getting up for work is harder to do when you get home from a show after midnight. That said it will be hard to say no too often and the quality of live music is exceptional in the NYC area (I am out on the 'burbs of Long Island but only a train ride away). Local venues also increasingly get shows I like with the Boulton Center a favorite venue (about 250 seats). I also am looking forward to a summer of festivals.
So here goes a recap of 2010 shows I made it to.
Cheap Trick - Irving Plaza
I just don't get their appeal. I think I was the only one there who was bored out of their mind. This was payback for dragging a friend to see Railroad Earth.
Eric Clapton & Jeff Beck - MSG
I ended up somewhat disappointed by this one. The pieces were better than the whole. Jeff Beck is brilliant but not always easy to listen to. Eric Clapton is an all time fave. Together their styles just did not quite mesh.
Railroad Earth - Boulton Center (Also in October)
My favorite band on the jam scene. Great musician who make the most joyful sounds. Took the wife and she loved it.
Pat Green - Terminal 5
Great show at the shittiest venue in NYC. Texas Independence day celebration with the "biggest" act to come out of the red dirt scene. Tons of fun and a long night of music.
Sam Bush - BB King's
My first time seeing Sam. Sam was my starting point in my journey into bluegrass. What a great show and easily one of the years highlights. I hope to see him at a couple of festivals this summer.
Lucero - Music Hall of Willaimsburg
I love Lucero, but live (at least on this night) Ben Nichols was too sloppy. I left a bit bummed out although they do redeem themselves live later on in the year.
Pat Travers - BB King's (also in December)
PT is one of my favorites from back in the day. Loud, ballsy, unapologetic rock & roll.
moe. - Theater at Westbury
Great show but a crappy crowd. I love many of the "jam bands" but the crowd is growing increasingly annoying. I know you are all hippy-fucking-dippy but I don't have any free tickets, I don't want to buy your nitrous balloons and no I am not enjoying you trying to sit my seat when I go to get a beer. Buy a ticket, pay attention to those around you and act like a civilized human being. Oh yeah, take a shower sometimes the patchouli isn't covering anything up.
Hot Tuna & Steve Earle - Theater at Westbury
I only got to stay for Steve Earle. Crappy week with a death in the family. I should have stayed home.
Tommy Emmanuel - BB King's
This one was for my son. He is an amazing player. Not the best songwriter but he can play the guitar.
Widespread Panic - Radio City Music Hall
See moe. above only worse.
Rush - Jones Beach
For me this is strictly nostalgia. I loved Rush in high school. Now it can be a bit much. I went to take my son but he is moving away from this kind of music so it will in all probability be my last time.
Willie Nelson & Levon Helm - Radio City Music Hall
An American institution and a music legend. Enough said.
Gov't Mule - Theater at Westbury
I think I've seen them too many times. I think a break is required.
Crosby, Stills & Nash - Jones Beach
Just sad.
Heart - PC Richards Theater
Freebies for a radio show. 5 acoustic songs. Not half bad.
Jerry Jeff Walker - BB King's
Jerry Jeff solo and acoustic. The Texas Troubadour was his usual self telling stories and singing his classics.
Gaslight Anthem - Radio City Music Hall
My favorite new band rocked it big time. Long time fans were disappointed with the show. If this was them a bit off then on must be a site to see (and hear). These guys deserve to be huge.
The Subdudes - BB King's
I came late to the party with the Subdudes. This is my second time seeing them and one of the best concerts of 2010. I heard they are going on indefinite hiatus again which is a sad thing to hear.
Roger Waters - Nassau Coliseum & MSG
I felt obligated to go. It was a HUGE show but not a concert in the traditional sense. Also, the Wall is just not that good a record.
Nick Lowe - City Winery
I was hoping for more since he was touring with the full band. I'm just not that big a fan of his output since the late 70's. It didn't suck.
Social Distortion - Roseland Ballroom
Punk legends were a bit too polished in my opinion. Openers Frank Turner and Lucero were both excellent on this night.
Richard Shindell - Boulton Center
My first time seeing him with a full band. Great set from one of my favorites. You should really check him out if you are a fan of modern folk.
Ian Anderson - Theater at Westbury
A friend won tickets. It was...different. I like old Jethro Tull as much as the next guy my age but most of the show was his solo material which is not so strong. We did get all of side 1 of Thick as a Brick though.
Levon Helm - Beacon Theater
The voice is gone but you NEED to see him and the band while you can. A great night of music featuring some stellar musicians.
Chris Smither - Boulton Center
Just Chris and his guitar telling stories and singing songs. A nice night of music.
Sharon Jones & the Dap Kings - Best Buy Theater
We'll see. The show is Thursday night.
So all in all a good year in live music. I hope the great shows continue in 2011.