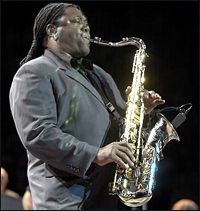 I never met Clarence Clemons. I have been a fan for almost 35 years, I own everything that Bruce & the boys have ever released. I have all the bootlegs, videos, etc. but I never met any of them. That's OK. The mythology of the band is my point of familiarity. I feel like I have known them my whole life. In fact, these records have provided the soundtrack for most of my life since high school. A part of that soundtrack is now gone from my future, but never from my past.
Clarence was a monster sax player. You just need to be there one time when he steps up to do the solo in Jungleland to understand that. But he was so much more than that to the band. He was the foil for Bruce. The King to his Boss. He was the soul to go with Bruce's heart.
I can't thank you enough Clarence for all the music, all the joy you gave me. If you don't understand you had to be there one October night in 2007 at MSG. Bruce introduces the next song for Peter Boyle who had just passed and the band launched into Meeting Across the River which of course moved into Jungleland. Pure Magic. People who were complete strangers were all hugging and singing along. Truly magical. That was one moment for me and there were many more.
As my musical heroes get older they are beginning to pass to their next gig. We all are getting up there and I miss so many that are gone. Clarence you were the shocker...a big part of my soundtrack is gone. Rest in Peace and God Bless Big Man.